[ad_1]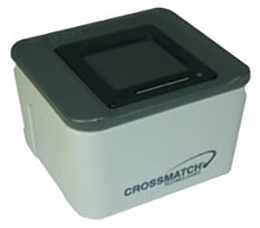 Fast, accurate and reliable fingerprint capture results for identification, verification and enrollment applications
Delivering fast, accurate and reliable fingerprint capture results for identification, verification and enrollment applications; the EF200 is designed for a wide range of deployment conditions, ease of integration and reduced maintenance needs. The device operates under a variety of environmental conditions including direct sunlight, and is ideally suited for civil and commercial programs.
The Crossmatch EF200 is a unique forensic quality, optical two fingerprint capture device employing the latest in electroluminescent film technology. The first Appendix F certified scanner of its type, the EF200 offers both flat and rolled print capture capabilities in a compact and lightweight profile.
500 ppi, forensic-quality image capture
Small footprint and low weight profile
FBI IAFIS Appendix F certified
Functions under direct sunlight
Financial Transaction Authentication
Benefit/Pension Disbursement
Applicant Background Screening
Defense
Finance
Government
Law Enforcement
Hospitality and Retail
Enterprise
Please contact us and request for additional information.
[ad_2]